Tyler Leyboldt
Digital Marketing Specialist
Tyler has been a member of the Bytes Digital Marketing Team since May of 2021. He is a graduate of the University of Tampa, with a bachelor's degree in Spanish Language and History. He has a decade of experience in small business retail at a local doggy boutique in Tampa, and has evolved his skills in sales and customer service into a career in marketing, working both in agency and freelance experiences. He also has a love for photography and video production, and brings his creative spirit to all aspects of his work.
He currently resides in sunny Tampa, Florida with his girlfriend Jessica, 2 dogs (Simon & Dalila) and his cat (Pepperonccini). Nothing makes him happier than a day out on the kayak listening to Sublime with a fishing pole by his side! You can usually catch him sitting in a coffee shop drinking a Café con Leche with a slice of cuban toast. He is a Long Island, NY native and is an avid NY Mets fan, despite his better judgment. He can often be seen occupying the stands of a baseball game with a craft beer in one hand and a score-card in the other.
Tyler's retail background has displayed itself in the successes of Ecommerce & Service based clients, and in the relationships that he has built with them, despite the 1,500 mile difference! He is dedicated to providing a welcoming, transparent and, most importantly, a valuable experience to his clients and does so with a smile and positive attitude!
Fun Facts About Tyler
I have always been a big fan of Rock & Roll, and I think the Hair Band era of the late 70's to early 80's was just a wild ride for the music scene at the time. Being born in '94, I obviously was not involved in the fad, but figured it would make an awesome costume for my Sophomore Year Halloween Party. Needless to say, I think we "rocked" it…. right?
I would classify it as both the best and worst Halloween costume I have had, mostly because we looked incredible (peep the blue cheetah leggings… Fashion Icon in the making), but the wig was a tad itchy to don for 7 hours. If only I could grow out such luscious locks myself, we might have kept the look alive a bit longer. Pardon the messy dorm room, but behold the glory of the 80's Rock & Roll style!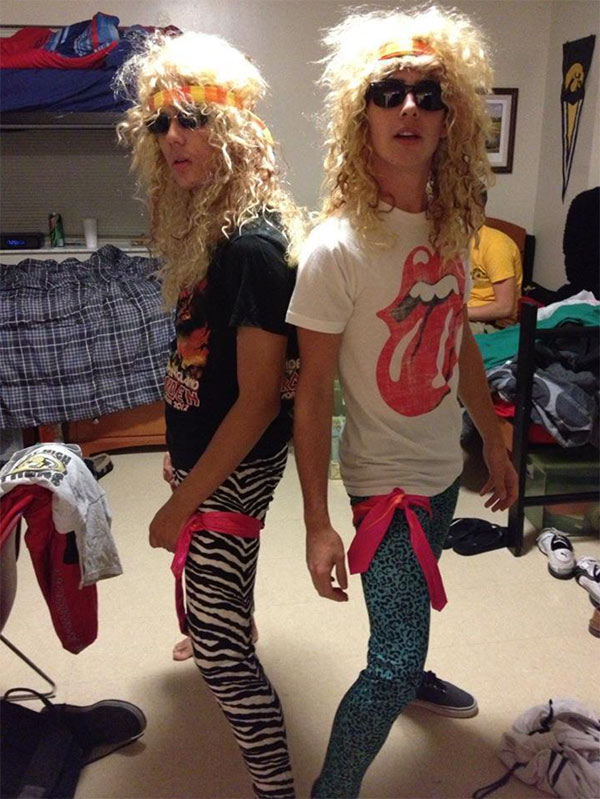 I've seen Black Mirror once, you're not fooling me!
Savory all day long for one reason: Ramen