Bytes.co Digital Marketing Team Assists in Imperative Pandemic Research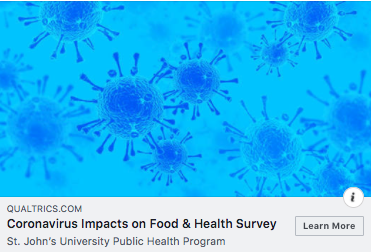 Over the last few months Covid-19 has shaken the world to its core. It's no secret that this virus has befuddled doctors and scientists around the globe. However, as time progresses, we have become exceedingly more knowledgeable about the virus and more importantly, how all of us can aid in halting its progress. That being said, there is so much more to learn.
In conjunction with research directly related to the virus, scientists are also examining the surrounding variables affected. Take food security for example. Due to the growing panic that has developed, people are changing their purchasing habits generally and more specifically as it relates to food. The University of Vermont Research Team wanted to find out just how much this was affecting the state's food security, what issues it could lead to, and how to proactively solve those issues before they occur.
In order to gather their data, UVM created a survey for the public. Once the survey was released, UVM received a large number of responses organically (without any paid advertising). While the survey obtained a sufficient number of responses, there was an issue with the demographics that were being represented.
To acquire an accurate representation of the state's condition, the responses need to mirror the demographics of the state as a whole. For example, if 50% of the Vermont population is female and 50% is male, then the survey results need to include 50% female and 50% male responses.
UVM reached out to Bytes to run an advertising campaign for this survey, targeting the demographics that weren't participating organically. Our digital marketing specialists began a Facebook Campaign in order to reach those hard to find groups. The campaign was a huge success, as it was able to pull in the formerly inadequately represented demographics and was responsible for about 25% of their overall responses. It gave UVM the data they needed to move forward with their research.
After the success of our campaign strategy, UVM reached out to several of their colleagues including St. John's University and the City University of New York (CUNY), to recommend Bytes for assistance in their research as well. Now, Bytes is running digital marketing campaigns for both institutions who are conducting similar research.
St. John's University is administering the same research study in the Greater New York City Area. CUNY, on the other hand, is conducting a survey across the U.S. Their goal is to uncover quarantine habits of people who have COVID-19 symptoms or may have come in close contact to those with symptoms. Bytes' role in advertising both surveys is to target the demographic that each institution is missing for accurate representation and results.
While our industry can't find the cure for Covid-19 or treat patients suffering from it, we are experts in digital advertising and eager to help scientists, doctors, and researchers make progress toward finding solutions throughout this pandemic in any way that we can.
Contact us today to reach your digital marketing goals.
Skip Footer