Google Ads Targets People "Regularly in Your Targeted Locations"
If you're reading this, you're likely a Google Ads Advertiser who just noticed that Google quietly changed Advanced Location Targeting settings, and you're scrambling to adapt. Unfortunately, as of 2019-05-31 at 10:30 EST, Google hasn't even changed the language in their own advanced location targeting documentation, and there's been very little coverage in the SEM/Digital Marketing blogosphere. A couple of Redditors are talking, but that's about it.
What Did Google Change?
Veteran Google PPC account managers may remember the Advanced Location Targeting options of yesteryear (circa 2011) that looked like this:
(Source: Wordstream)
Target using either physical location or search intent (recommended)

Target using physical location: Device-based location signals

Target using search intent: Location terms in user queries
Arguably, these old settings options were the least ambiguous in that they were basically: physical location, location in query, or both. More recently – the last several years – things were muddied a bit but we all grew accustomed to these options:
(Source: SEM Rush)
Here the broadest option was the default, and included the ill-defined "who show interest in", which most of us took to largely be updated verbiage to "search intent", but it always seemed like a way for Google to leave the window open to redefine as they saw fit. Even now, the support documentation explains it this way (emphasis mine):
This default and recommended option lets you reach people who are likely to be located, or who are regularly located in your targeted location, as well as people who have shown interest in your targeted location.
Unfortunately, that vague description remains in the new options advertisers have been stumbling on this week, but the big change is the replacement of "People in your targeted locations", with "People in or Regularly in Your Targeted Locations":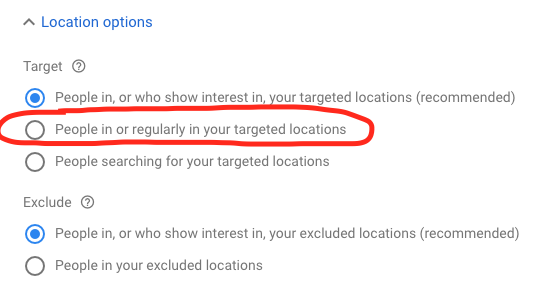 Time to Hit the Panic Button? Maybe not.
While a more cynical SEM specialist might read this and sigh, "Here Google goes tinkering with targeting again, undoubtedly to make us spend more on lower quality clicks", I think this could be a positive development. Google already talks a lot about being in the multi-device world, so it stands to reason they're also thinking about users who may regularly be in multiple places (e.g. work, home, commuter routes, etc.)
When discussing advanced location targeting with other PPC strategists, I often use the example of people who live in New Jersey, but work in Philadelphia who need a landscaper. They don't need a "Philadelphia landscaper" when they search from their office, they need a "[insert NJ town name] landscaper". My sense is that Google is trying to account for these types of scenarios with the new targeting option.
What Does People in or Regularly in Your Targeted Locations Mean
Historically, to account for the NJ dwelling Philly worker, we had to go with the broadest option, which included users who "show interest in", even though we didn't have a clear definition of what that meant and inevitably we all saw clicks coming from all over the globe, from Afghanistan to Zanzibar. In theory, this "People in or regularly in" allows us to get ads in front of those eyeballs and avoid some of those costly, garbage clicks.
Of course my cautious optimism is highly speculative at this point, since even the API documentation hasn't changed to reflect or define the new language, despite an update earlier this month, but this very deliberate change was obviously made for a reason.
Targeting Matters
If you're running Google ads for your business or small profit, or even considering it, we'd love to chat and see if we can help.
Bytes.co's team of Digital Marketing Specialists live and breathe Google Ads, among other platforms, and we know how complex and daunting campaign management can be. With a seemingly infinite number of potential targeting combinations and settings, it pays to have an expert on your side. Call, email or chat us today!
Skip Footer