2022: Our Year in Review
As we near the end of 2022, we would like to express our gratitude to all of our valued clients for their trust and commitment to working with us! This past year has seen incredible accomplishments from each of our departments, which have improved both the quality and efficiency of our services. We look forward to another exciting year of working together, and appreciate everyone for being a part of the journey! Below are some of the highlights from each of our departments this past year.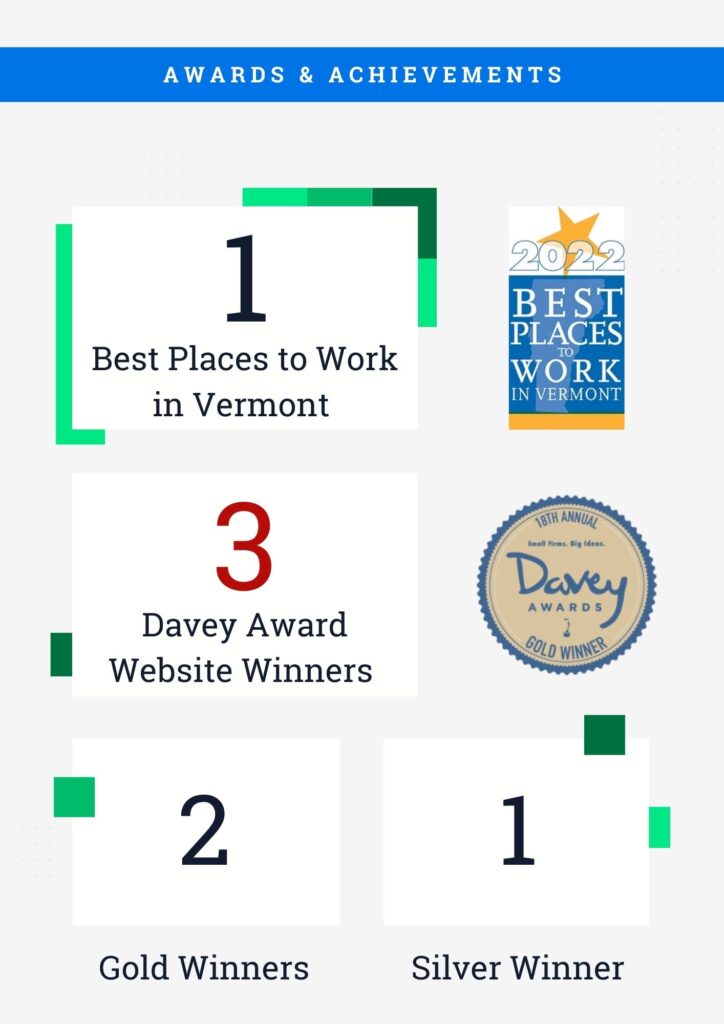 To Summarize:
Sales:
We sent out 323 proposals this year, 159 of which were accepted.
We gained 76 new clients, and currently have a total of 444 clients.
Awards & Achievements:
Our company won a Best Places to Work in Vermont Award for the first time, and also had three Davey Award Website Winners, including two Gold Winners and one Silver Winner.
Our development team launched 33 websites, using 4,765 website project hours and 2,243 custom development project hours.
Our website hosting and support team spent 3,841 hours on website support, solved 3,314 support tickets, and performed 18 website migrations and 1,680 plugin updates.
SEO: We crawled 5,441,956 website pages and tracked 14,652 keywords.
Google Ads: We recorded 95,137,156 impressions, 1,074,104 clicks, and 52,227 conversions.
Facebook Ads: We recorded 19,633,391 impressions, 323,630 clicks, and 5,209 conversions.
We spent 2,953 person-hours in Google Meets this year.
We gained 4 new employees, for a grand total of 25 employees. Our new team members are Will, Josh, Emily, and Alister!
Skip Footer