Davis & Hodgdon Advisory Group and Copper Leaf Financial Dual Website Launch
We had a double feature launching the two new WordPress websites for Davis & Hodgdon Advisory Group and Copper Leaf Financial on May 10th. Quite an exciting way for us to get through a Wednesday! You bet our launch crystal was fully charged for a two-website launch day.
A little bit of background on this client:
Davis & Hodgdon's mission is to act as a trusted advisor in providing a dynamic range of timely, high quality financial services resulting in profitable and satisfied clients. You can read more about their history on their About Us page.
Copper Leaf Financial, LLC is an SEC registered adviser affiliated with Davis & Hodgdon Advisory Group. For more than 30 years, Davis & Hodgdon has provided comprehensive and timely planning with a proactive approach to tax services.
When they first came to Bytes.co for a new website, it was clear we had an opportunity to rethink their sitemap and presentation of content. Both their current websites had a lot of helpful information for their users—we just needed a bit of restructuring and a fresh new look. Our goal was to make it easier for their users to find that information and be able to digest it without getting overwhelmed by long sections of text on a page.
A few features we put into place to achieve this:
Table of Contents or "Quick Links" at the top of lengthier pages
Varying layouts to present text in an aesthetically pleasing way using multiple columns, imagery, and color blocks
Typography as a design element—for sites that are more content-heavy, leveraging a beautiful font for headlines as a way to break up the page is my tried and true approach.
Overall, we're really happy with how the sites came out and are thrilled to have had the opportunity to work with Davis & Hodgdon on their two new websites.
Davis & Hodgdon Advisory Group's Website Transformation
Before:
After:
Copper Leaf Financial's Website Transformation
Before: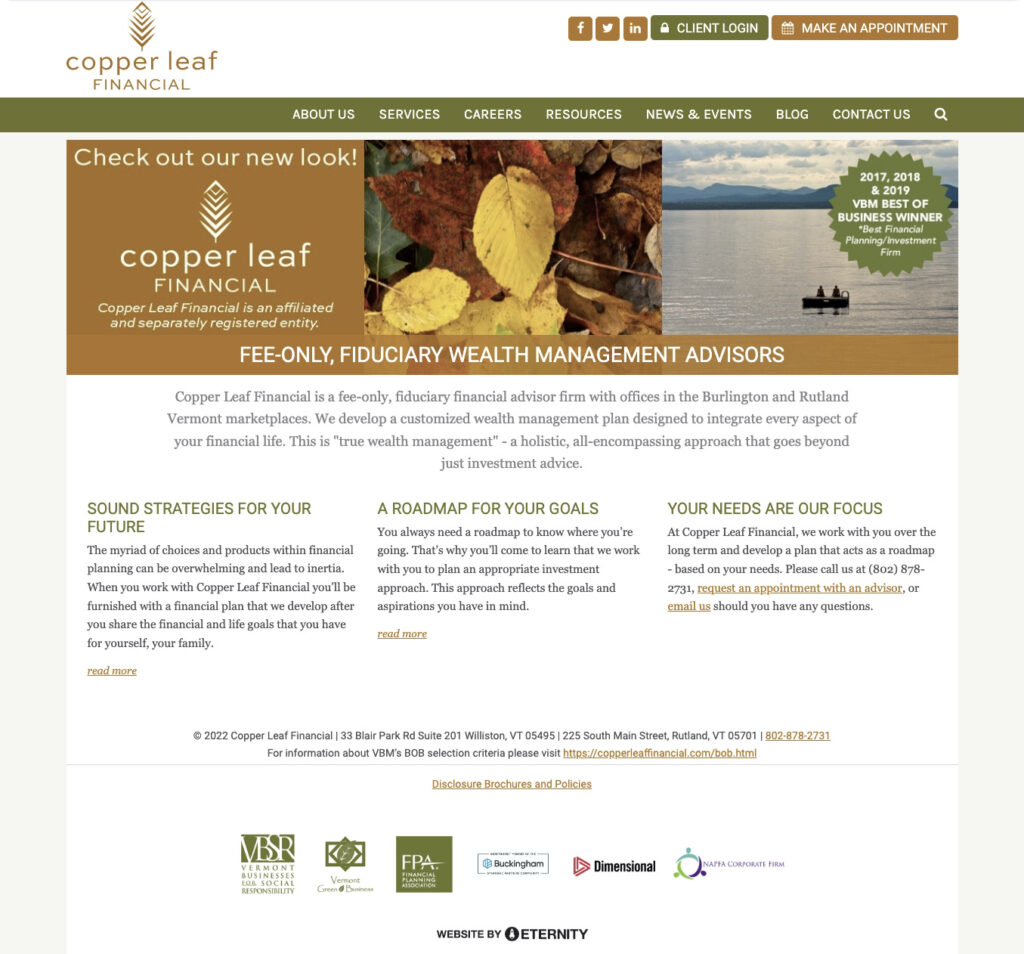 After:
Skip Footer