How to Grow Organic & Paid Traffic to Your Website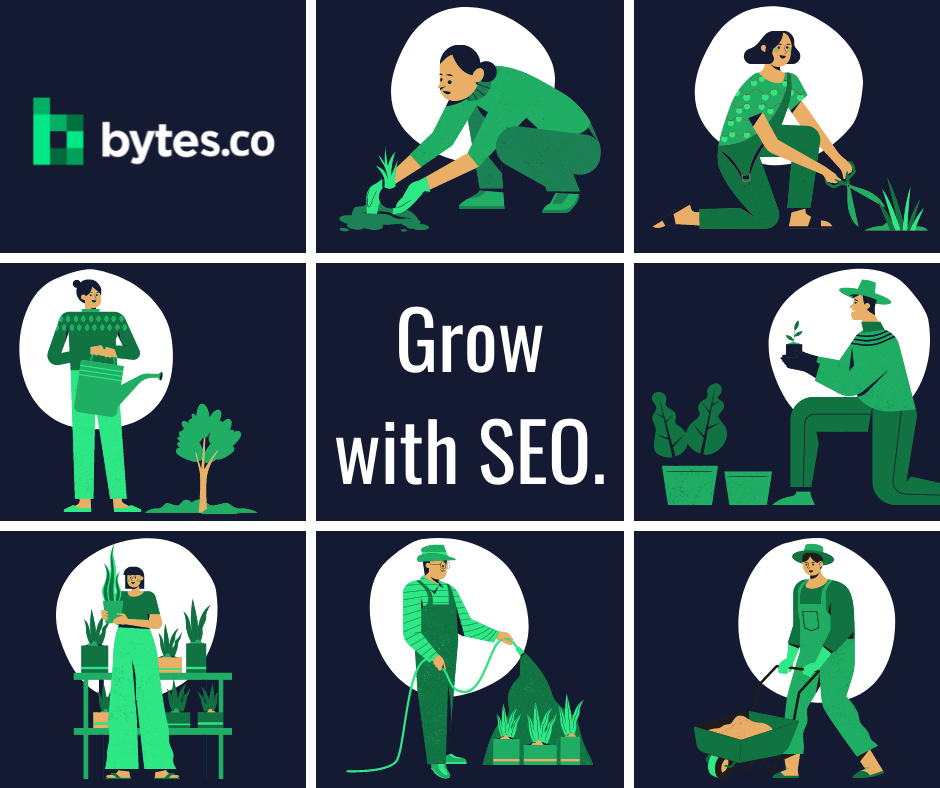 If you're like most business owners, you want to see your website at the top of search engine results pages (SERPs). But what many don't realize is that it takes time and effort to grow organic and paid traffic to your website.
In this article, we'll discuss how search engine optimization (SEO) and search engine marketing (SEM) can help improve your website's visibility and rankings on search engines over time. Keep in mind that SEO and SEM are like tending to a garden – it takes time and effort to see results, so be patient! In the long run, SEO and SEM are a worthy investment.
1. Identify Your Seed Keywords
Like a garden, SEO and SEM both start with the same foundation – seeds, or in this case, seed keywords. Seed keywords, or short-tailed keywords, consist of one to two words often with high search volume and high competition that are relevant to your business.
Once you've identified your business's core seed keywords, you can use these as the basis for your keyword research, during which you'll discover long-tailed keywords. Think of long-tailed keywords as the cream of the keyword crop – highly relevant keywords with lower competition. These are the keywords that will help foster future SEO and SEM growth.
2. Plant Your Seed Keywords
The next step is to then plant your seeds – or in other words, to add your new keywords to your website and paid search campaigns. In terms of SEO best practices, start by adding keywords to your title tags and meta descriptions first. These short pieces of text are actually some of the most important elements of your website, and can make or break your website's visibility in search engine results pages (SERPs). As Moz puts it in one of their articles, meta titles and descriptions act as short summaries of a web page's content. This is often what users see first from your website when looking at a page of search results, so planting keywords that are relevant to users' searches in these spaces should help to increase website traffic.
Once you've planted your keywords there, be sure to go through and add them to your current site content as well. Adding keywords to the pages on your website will help to boost your on page SEO and to help your website organically show up for more relevant searches. For SEM, start by planting your keywords in your ad groups and ads. Having a solid keyword foundation in your ad copy will help to boost your ads' optimization scores and increase your ads' relevancy to users.
3. Weed The Garden: Run a Content Audit
The next step is to "weed the garden", or in SEO terms, to audit your website for any technical issues. Run a site audit and look for issues such as broken links and images, slow page speed, duplicate content, and any pages returning a 404 error. One of our favorite tools for this is SEMrush's Site Audit tool.
For SEM, continue to adjust your campaigns through optimizations such as ad scheduling and the addition of negative keywords. These optimizations will help to weed out the periods of time with high cost per conversions and remove any undesirable search terms that your ads may be showing for. Small adjustments like these can easily go overlooked, but are crucial to making your SEO and SEM efforts thrive.
4. Grow Organic & Paid Traffic to Your Website
Once your keywords have been planted, it's time to nurture their growth over time. For SEO, this means using your keyword research to generate new content ideas for your website and blog posts so you can continue to increase your organic search rankings and improve your on page SEO. Creating new, original content that is relevant to your website and target audience helps to make you an authority in Google's eyes, which in turn helps to grow organic traffic to your website.
Another way to boost your website's authority score is through cultivating quality backlinks. Backlinks are URLs that link back to your domain from other websites, which signals to search engines that your website is a reliable source. The more backlinks you have to your website from other trustworthy external domains, the more authority it will have.
From an SEM perspective, this part of the process should be focused on continuing to get your paid search campaigns dialed in. Nurturing your campaigns with monthly optimizations and bid adjustments will help to get your ads ever closer to the coveted first position at the top of search engine results pages, thus increasing paid traffic.
5. Generate Leads from SEO & SEM
The farther into the SEO and SEM process you are, the more brand awareness and traffic your website should receive, which in turn should blossom into more leads, transactions, and revenue. The sooner you start, the better too – as more historical data means you're more prepared for the holidays and your company's busy season.
Looking to start growing your business's online presence through SEO and SEM? Our team of digital marketing strategists can help increase your website's traffic, visibility, and ROI with our Google Ads management and SEO services. Contact us to learn more about improving your online presence today.
Skip Footer