website design
Roman Catholic Diocese of Burlington
Vermont's Roman Catholic Diocese, Serving 110,000 Catholics Statewide.
Established in 1853, the Roman Catholic Diocese of Burlington has a long history of community engagement with a network of churches in Burlington and beyond. They serve as a home base for the Catholic community in Burlington, offering information and programs to help all types of people.
TECHNOLOGIES USED

WordPress
MapPress Pro Plugin
Events Calendar Plugin
Gravity Forms Plugin
KEY HIGHLIGHTS

Interactive Map & Directory Allows Users to Search for Churches & Mass Times
Searchable Resource Library by Keyword & Tag
Searchable Staff Directory by Name, Department, & Church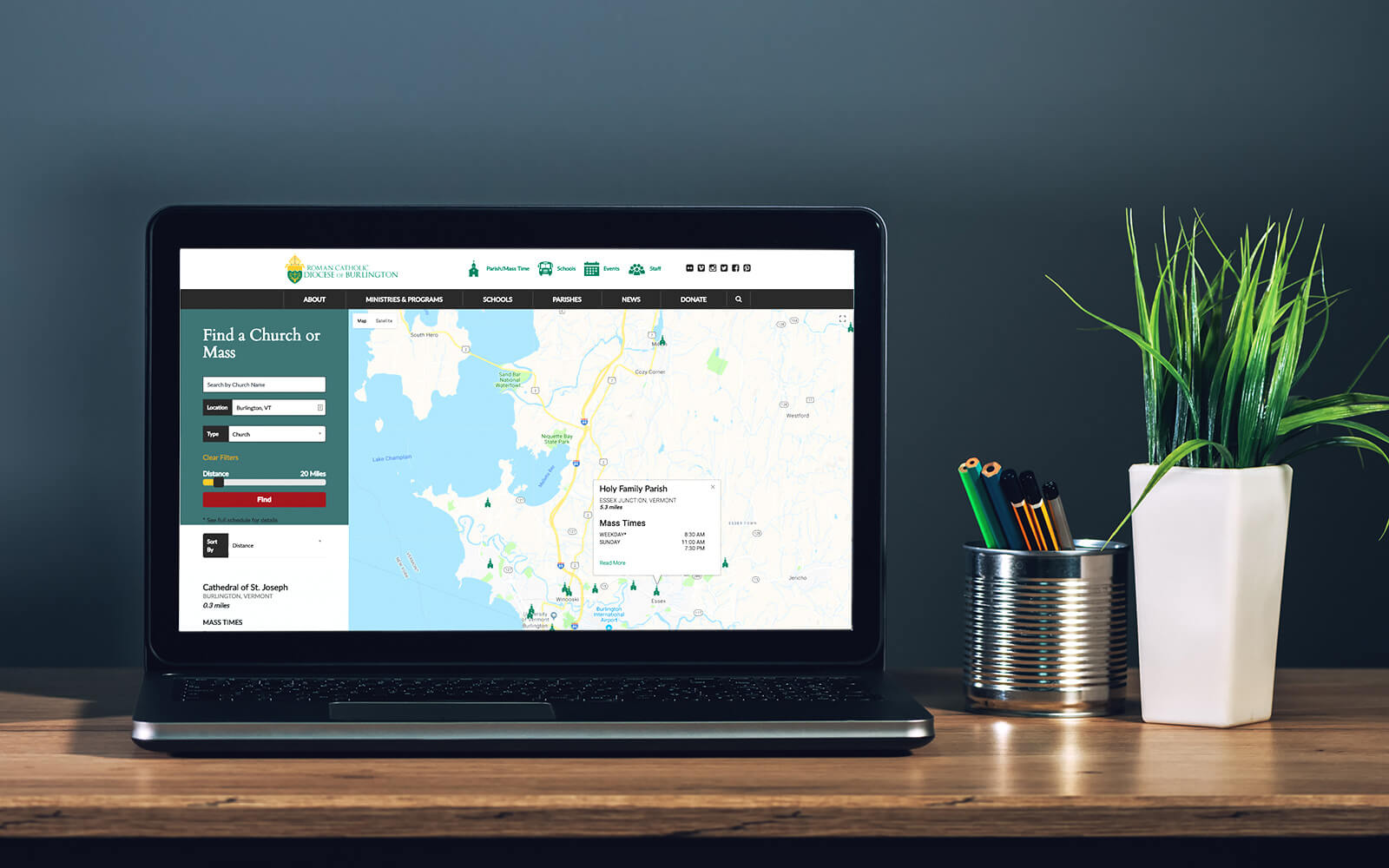 The Challenge
The Roman Catholic Diocese of Burlington wanted a new website that would connect Vermont Catholics with religious services, events, information, and resources in an effective and engaging manner. This new website would also need to provide a seamless online user experience spanning the Diocese's different programs, publications, and social media presences. In addition to serving individual Vermont Catholics, this new website would ideally act as a resource library for parish use as well. All in all, the final product needed to meet the needs of many different types of users.
Our Approach
We needed to build a website that organized a wide range of information available on multiple web properties into a single, easy-to-use site. We found that by unifying the existing templates, a clear visual association between the different web properties was made, and cross-linking content made it easier for users to access related materials by topic or interest. Tying the blog in with the email newsletter also created a more efficient and effective communication tool for the Diocese. Finally, the new interactive map more clearly shows where Catholic churches and schools can be found in and around Vermont.
Homepage Layout & Design
Gives users quick access to the information they are looking for, and allows them to easily engage with religious resources.
Mega Menu
Upcoming Events Feature
Resources Highlight
Vermont Catholic Magazine Feed
Browse Related Projects
Learn more about our recent website design and development project with Arts for Learning Connecticut, a nonprofit organization.
Learn more about our WordPress website development and ADA compliance work for Vermont Family Network, a local nonprofit organization.