Goodbye 2016 – Hello 2017!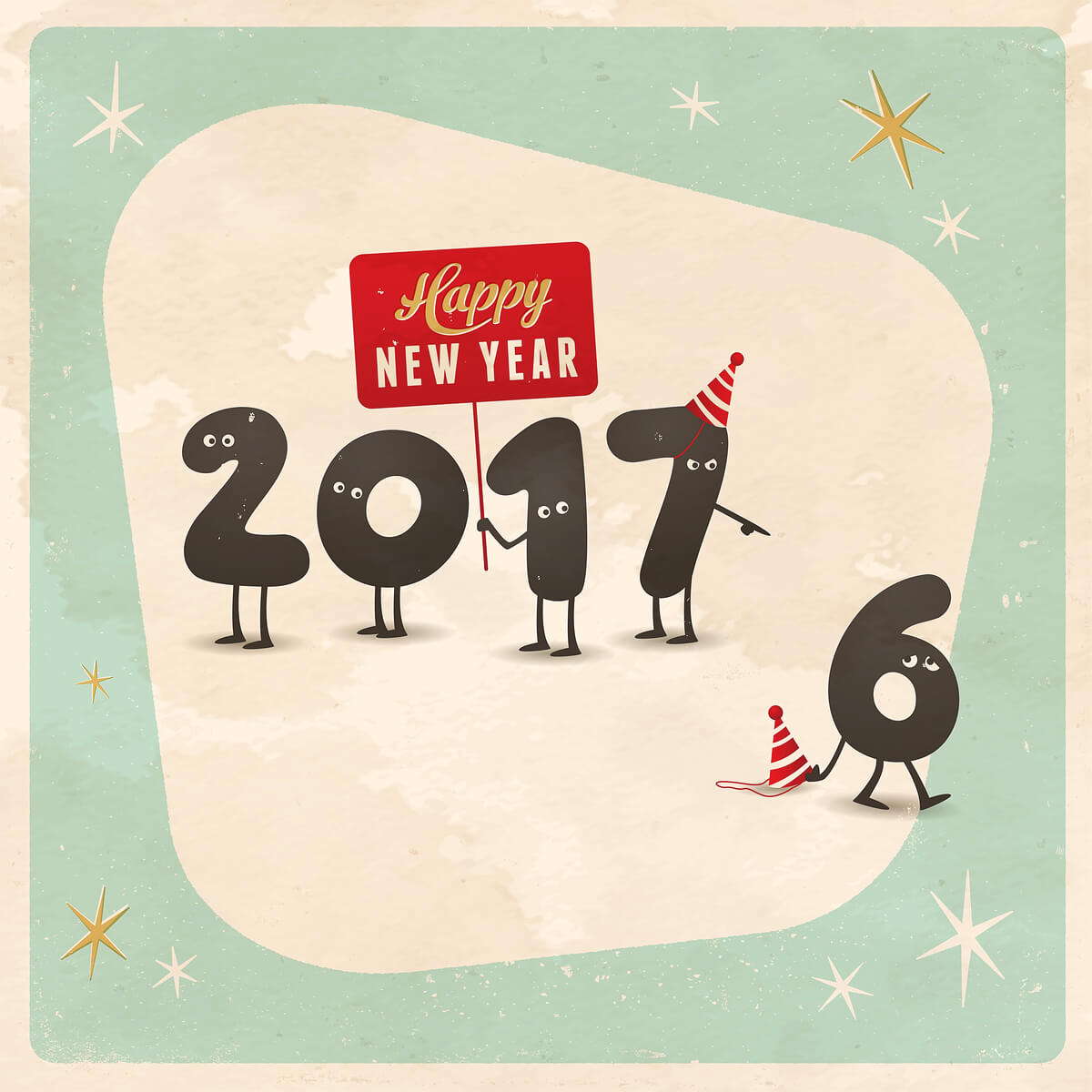 A year in review:
If you're one given to reading news, 2016 is a year better forgotten. We lost countless celebrities to the grim reaper's general ageism, Ryan Lochte made it difficult for ALL of us to visit South America, and what was that other thing? Oh yeah…we lost our country to a bloviating citrus fruit that can only be impersonated by a Baldwin brother. Not that anyone should vote based on who they want to look at on SNL for 4 years, but c'mon America. He promised 6-7% GDP growth…you know better. A clear sign that the horse puckey has hit the fan is when you're calling your electors asking them to faithlessly vote for a George Bush 3rd term.
And the latest sign that 2016's craziness will sprint over the finish line with no sign of slowing down? I just heard an NPR guest, correct an NPR host on not being politically correct.
But that doesn't mean it was all bad. Certain parts of our country had bumper years. Between soaring SUV sales and "Startups Gone Wild", those of us with both SUV's and startups have been partying like it's 1999. And Burlington Bytes is no different.
See our partying Santa below:

So what did Burlington Bytes accomplish over the year? A lot, and in no particular order of importance:
Record sales – Burlington Bytes broke through last year's sales sometime in September. Growth. Is. Good.
Our team changed – A few members of our team went on to the next steps in their career, but we hired some all stars in their place. In the end we're slightly larger, and have a stronger culture than before.
I learned to use Microsoft word without Clippy's help.

We committed to hiring with balance – Hiring in the tech sector comes with challenges, and even more so when we want to mirror the populations we serve. This year we committed to putting balance in the mix when hiring. This means for everything from culture to gender to hair color, and all while not sacrificing one iota of quality in our team members. But, it is important, and in a world where culture is as important as strategy, this is an effort that makes sense.
We won a state grant to assist in hiring – a hat tip to John Young and the team at the Vermont Training Program, we landed a grant to help support our growing business. Who says Vermont isn't business friendly!?
We organized our business – As the size of our team increased, we need to make teams, and let our leaders on the team, lead. Kristina, Greg, Mitch, and Lilly have masterfully risen to the challenge of leading their respective areas – Production, Development, Digital Marketing, and Hosting & Support. Yes. We're on a team, and everyone helps everyone (especially at this size). But now there is structure, leadership, and incredibly smart team members mentoring and growing our other incredibly smart team members.
We started Accessible Web – This was an obvious evolution whose time has come. After Pete Jewett experienced a need first hand with a family member, we dove in head first and learned everything we could about designing for web accessibility. While there is a lot more to come from this part of the business in 2017, it is exciting to be a part of a socially forward thinking business that is promoting equality across the web.
Burlington Bytes won the LCRCC Award for Entrepreneurial Spirit – BOOYAAA!!!! (and thank you to LCRCC!)
We raised the stake's on Slender Man with Burlington's friendlier (and body image positive) version, Naked Man (see post here).
If you look at it all in aggregate, it was a busy year. And there is a long way to go before we get to retire and party on Pete Jewett's new boat (pictured here). But we have carved out an exciting path, and can't wait to share it with you in 2017.
First on the list? Releasing our newest product, Blockade in January. Get ready to see more innovation, more products, and a LOT more fun from this team. And most importantly, thank you for being supporters along the way. This company would not be where it is, without our wonderful community cheering us along, and being a part of our culture.
Happy New Year from the Burlington Bytes team!
Best,
Andrew Stickney
Skip Footer