Lippa's Estate & Fine Jewelry Website Launch
Right around the corner from our office on Bank Street, Burlington, resides the oldest family-owned store on Church Street. Lippa's was founded in 1933 by the current owner's great-great Uncle Meyer Lippa. It has been passed down from three generations to Mike Berger, who took up his father's (Jeff Berger) torch when he retired in 2020.
Being just a stone's throw from our office was certainly a perk as we headed over to meet with them in person on a chilly January day. What was the norm prior to 2020 is a novelty now—I do miss conducting kickoff meetings on-site. The physicality of opening a door, shaking hands with the client, perusing the tidy glass cases of jewelry. . .it really allows for the vision of the new website to begin taking shape more quickly.
Whenever we are building a website for a brick-and-mortar business, it's essential that the offline and online experiences seamlessly flow together. The website may be the first introduction a visitor has to the brand. If the hours aren't correct, the imagery and text aren't representative of the quality of the in-person experience, the site is frustrating or impossible to use on mobile, or calls to action to "book an appointment" or "complete a purchase" are misleading and/or not functional, a potential customer may start to lose trust in the business long before they step foot through the door.
We knew we wanted the new Lippa's website to feel both classic and timeless, much like the carefully curated selection of estate jewelry they offer. We also wanted to make sure that the design elements supported the products, not competed visually with them. And of course, with any e-commerce site running online ads, this site must be built to both rank well in search and convert visitors to sales and/or in-person visits.
A few key highlights of the new Lippa's site:
WordPress website with WooCommerce extension for the shop experience
Wholesale configuration allowing wholesale customers to have different pricing, shipping, and payment terms than DTC customers
Migrated product catalog from BigCommerce to WooCommerce
Online Booking Form
Search engine optimized product category pages and sitemap
Product comparison feature to allow customers to quickly evaluate products side-by-side
Dedicated pages for their services
Advanced product search and filters
A somewhat biased highlight for me personally is that I'm in the market for a wedding band (May 4th, 2024 is the big day)! I also utilized one of Lippa's services to resize my engagement ring and learn a little more about the history behind it (the ring was my Mom's from the 1970s). If you're also into vintage and/or antique jewelry or just want to check out the new Lippa's website, go take a peek here. You can browse by time period, by jewelry type, or see what's on sale. They have a great selection of jewelry and watches and the Lippa's team is also a pure delight to work with.
Lippa's Website Transformation
Before: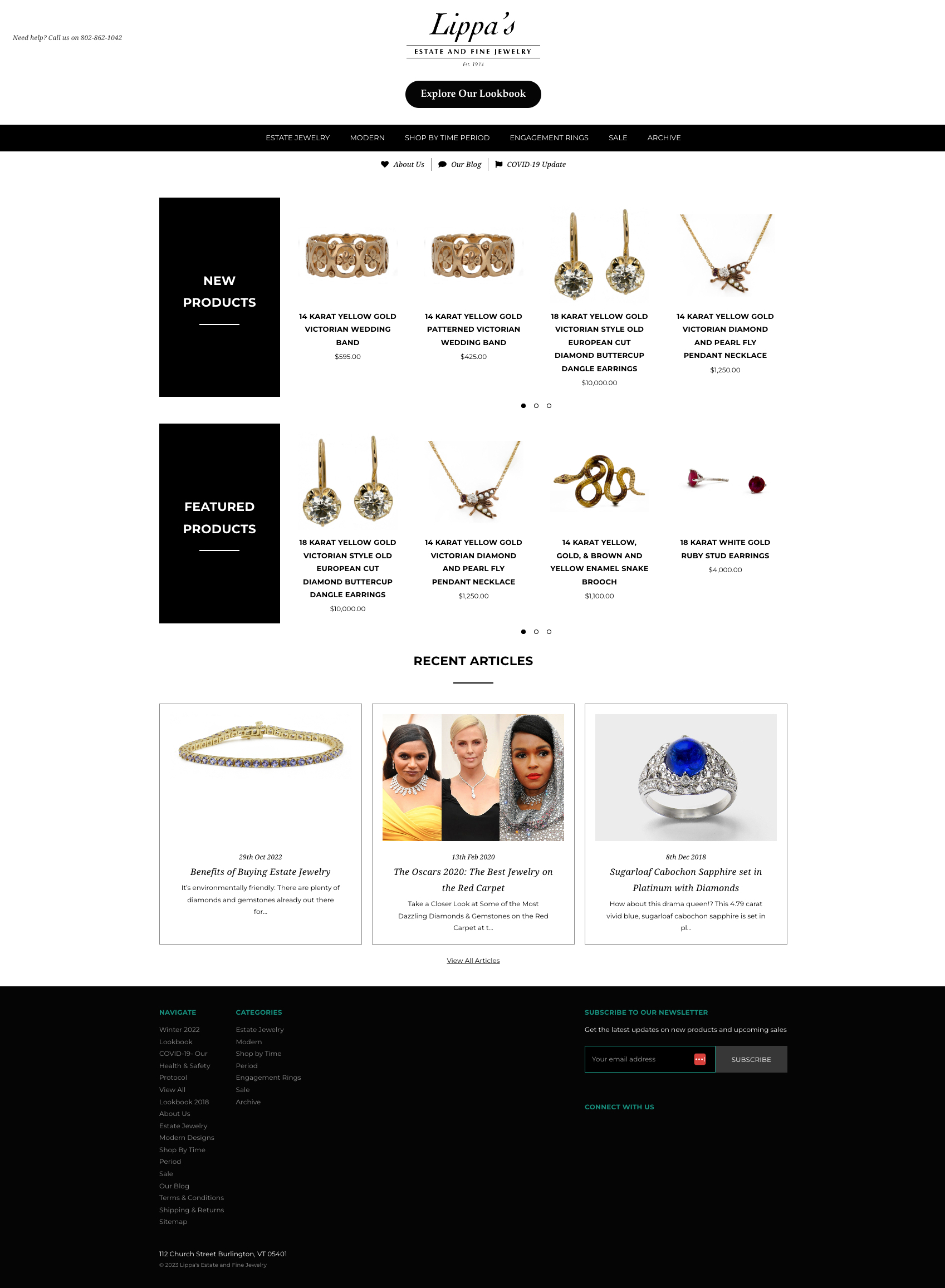 After:
Skip Footer