Why Strong Search Engine Optimization is Essential for Your Business
Why SEO is Important
As the world of Marketing has drastically shifted to a focus on Digital Advertising over the past 10 years, many have struggled to keep up with the latest digital trends. With so many digital marketing resources available such as Google Ads, Facebook Ads, Search Engine Optimization (SEO) Practices, and more, traditional marketers have had to learn a great deal in order to keep up with competitors. It has drastically changed the world of marketing. As such we find it's important to educate our clients and potential clients on the importance of digital marketing, which is why we've created the following guide on the importance of SEO and how to implement best practices into your online strategy.
First off, what is SEO? SEO stands for Search Engine Optimization. The name is pretty self-explanatory. SEO is the practice of making your website easily found and ranked highly by search engines like Google. While Google closely guards their ranking algorithm and the weighting of hundreds of ranking factors, there are three components at the core of SEO best practices: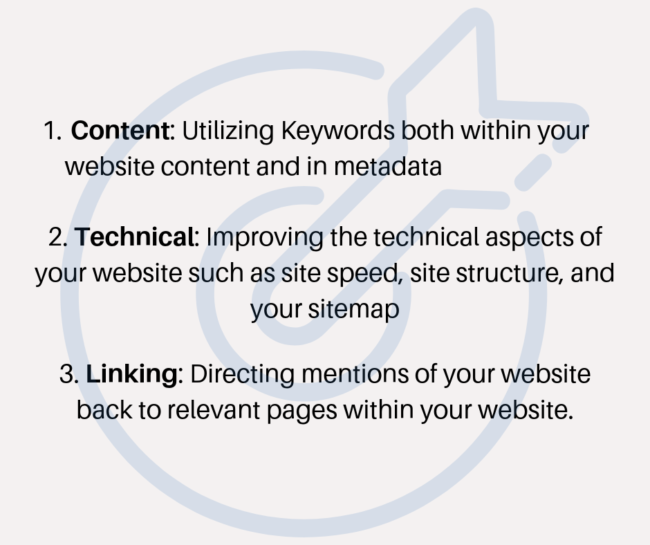 1. Content:
When writing content for your website it is important to first create a keyword list for your website.

• What are keywords: Keywords are the common words and phrases used to search for your product or service that help potential clients find your business. For example, if you own a Hair Salon, common keywords used to search for your services are; hair salon, hair stylist, hair cut, hair coloring, etc.

• Using Keywords On Website Pages: It is very important to use your list of keywords throughout your website on relevant pages in order to be found by Google and the other major search engines. In addition, if you're a local business, adding the location of your business can help you get indexed and rank for relevant searches. For example, if you own a hair salon in Boston, MA, it is important to use "Boston" and "Massachusetts" in your website content so Google understands the region you're attempting to target and which users your content/website will be most relevant to.

• Using Keywords in Metadata: Metadata, specifically the meta description, is a brief description of your business that your website sends to search engines. Metadata is another resource search engines use to show searchers what a given web page is about. At Bytes, we typically use the Yoast Plugin in order to add metadata to each website page. Metadata includes both a title tag and a meta description. When writing your website's metadata it is important to include the keywords and, when applicable, location relevant to the page. Keep in mind that you are limited in the number of characters of your meta title and description. According to Yoast, you can write a meta description of up to 155 characters and a meta title of 40 – 60 characters. An example of good metadata is below:
2. Technical:
There are several technical components of your website to enhance for improved SEO including the sitemap, site speed, site structure, security, and mobile-friendliness. When Google is evaluating whether or not your website is relevant to a users search, these technical aspects of your website are substantially taken into consideration.
• Site Speed: A website's site speed is the speed in which a website loads once it is clicked on. Any website that takes longer than 2 seconds to load increases its bounce rate to about 40%. (Bounce rate refers to the percentage of times searchers click on your website and then leave instantly). Google perceives this negatively, which can decrease your Google ranking.
• Structure: Search Engines are also very keen on the structure or layout of a website. It is important to place pages in your menu and throughout your website according to relevancy. For example, the Bytes website places all service pages under their relevant parent service. An example, is our Google Ads page is placed under the Digital Marketing parent page, not under our "Hosting and Support" service page:


• Sitemap: The sitemap is a file that provides information regarding the relationship between the pages, videos, images, etc. on a website. By submitting a sitemap to search engines, you are allowing them to crawl your website and better understand how it is organized. Therefore, well-organized sitemaps are ranked adequately.

• Security: Having a secure website is essential for positive SEO. If a website is compromised, search engines instantly decrease a website's ranking. It is imperative to maintain website security for SEO purposes.
• Mobile-Friendly: Now more than ever, it is essential to have a mobile-friendly website. Google is utilizing mobile-first indexing, meaning the content and structure of your website on mobile is essential for a high Google rank. If you want to learn more, read our blog post about the importance of mobile-first indexing.
3. Linking:
While keywords in content and metadata are completely within a website owner's control, there are other SEO strategies that take a little more work to achieve success, like backlinking. Backlinking refers to when your website is linked to from other websites on the internet. These links are like votes of confidence that signal to Google that your site is an authority on a given topic. For example, Bytes' SEO Services might be mentioned in a blog post on another website, which links back to our SEO services page. By linking to our website, Google recognizes the relevance and popularity of your website, which improves your Google rankings. Additionally, it is important to note that the websites who link to your page should be high-quality websites. If Google recognizes a low-quality website is linking back to yours, it could decrease your Google rank. Internal links – links within your site – can also help Google understand the architecture of your site when ranking it for multiple topics. (Notice I linked "Bytes' SEO Services" back to our SEO page ?).
It's important to note that in order to rank highly according to search engines, each of the three components are as important as the other. If your website does not excel in all three, there is a good chance you aren't being found due to a poor rank. If you want to improve your website's SEO, contact Bytes today and find out what our team of experts can do for you. Need proof of our expertise? Check out our portfolio page and find out how we've helped dozens of businesses improve their Google Ranking over the past ten years.
Skip Footer